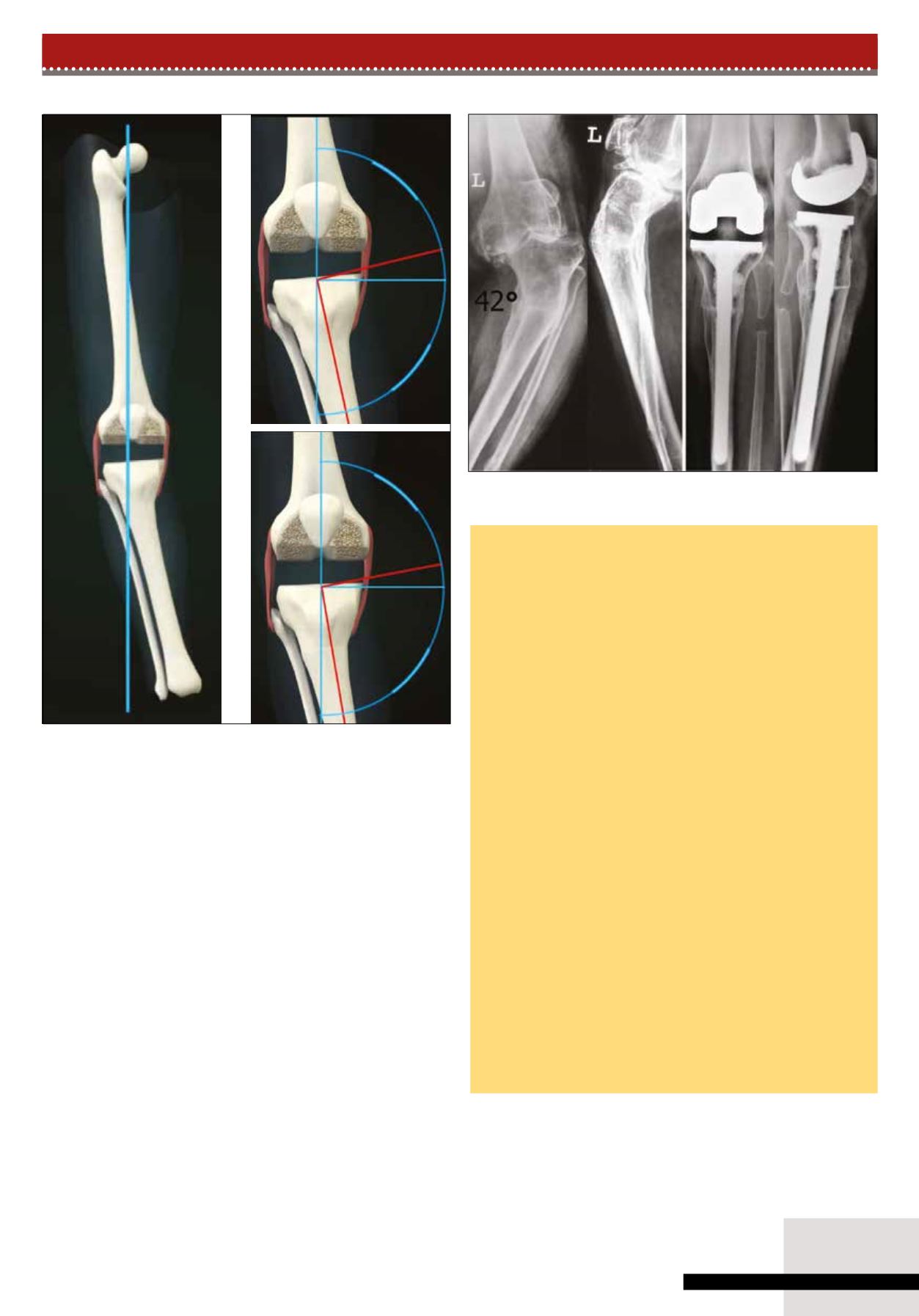 Bibliographie
1. Mullaji Arun B & Shetty Gautam M.
Deformity Correction in Total Knee
Arthroplasty. 2014.
Springer, New York, USA.
2. Mullaji A, Shetty GM.
Correcting deformity in total knee arthroplasty: tech-
niques to avoid the release of collateral ligaments in severely deformed knees.
Bone Joint
J 2016;98-B:101–4
3. Mullaji A, Shetty GM.
Correction of varus deformity during TKA with reduc-
tion osteotomy
Clin Orthop Relat Res 2014 Jan;472(1):126-32
4. Mullaji A, Shetty GM.
Surgical Technique: Computer-assisted Sliding Medial
Condylar Osteotomy to Achieve Gap Balance in Varus Knees During TKA
Clin
Orthop Relat Res 2013 May;471(5):1484-91
5. Shetty GM, Mullaji A, Kanna R, Vadapalli R.
The Influence of Preope-
rative Deformity on valgus correction angle: an analysis of 503 total knee arthroplasties
J Arthroplasty 2013; 28: 20-27
6. Mullaji A, Shetty GM
Correction of Severe Deformity in Total Knee
Arthroplasty: Decision Making and Key Technical Considerations.
Semin Arthro
2012; 23:27-30
7. Mullaji A, Shetty GM.
Persistent hindfoot valgus causes lateral deviation of
weight-bearing axis after total knee arthroplasty.
Clin Orthop Relat Res 2011;
469:1154-60.
8. Mullaji A, Shetty G.
Computer-Assisted Total Knee Arthroplasty for Arthritis
With Extra-articular Deformity.
J Arthroplasty 2009; 24 (8): 1164-1169
9. Mullaji AB, Marawar SV, Mittal V.
A Comparison of Coronal Plane
Axial Femoral Relationships in Asian Patients With Varus Osteoarthritic Knees and
Healthy Knees.
J Arthroplasty 2009; 24(6): 861-7
10. Mullaji A, Kanna R, Marawar S, Kanna R.
Quantification of Effect of
Sequential Posteromedial Release on Flexion and Extension Gaps: A computer-assisted
study in cadaveric knees.
J Arthroplasty 2009; 24(5):795-805
11. Mullaji AB, Marawar S, Sharma A.
Correcting varus deformity.
J
Arthroplasty 2007; 22(4) 15-19
12. Mullaji AB, Padmanabhan V, Jindal G.
Total Knee Arthroplasty for Pro-
found Varus Deformity: Technique and radiological results in 173 knees with varus
more than 20 degrees.
J Arthroplasty 2005; 20(5): 550-561
MISE AU POINT
Figure 20 : DEA de la métaphyse du tibia. Libération intra-articulaire initiale suivie
d'une recoupe du tibia, si nécessaire, afin d'obtenir un espace symétrique.
Figure 21 : Exemple de DEA sévère biplanaire du tibia corrigée par une ostéotomie de
fermeture, la résection d'une baguette de fibula et stabilisée par une longue tige.
• Si un écart trapézoïdal per-
siste, cela implique une grave
rétraction des structures pos-
téro-médiales et du semi-
membraneux. Par conséquent,
l'étape suivante consiste à
effectuer une résection de la
capsule postéro-médiale et à
libérer le semi-membraneux de
son insertion tibiale.
• Si ceux-ci sont libérés et
qu'une déformation persiste,
cela implique qu'il existe une
DEA tibiale. Cela aurait dû
être détecté et anticipé lors de
l'étape de planification. Réa-
liser un espace rectangulaire
en recoupant le tibia proxi-
mal. Toute déformation rési-
duelle en varus sera corrigée
par ostéotomie de fermeture
au sommet de la déformation,
le plus souvent dans la méta-
physe tibiale en recoupant le
tibia proximal. Toute défor-
mation résiduelle en varus sera
corrigée par ostéotomie de fer-
meture au sommet de la défor-
mation, le plus souvent dans la
métaphyse tibiale.
g
MAITRISE ORTHOPEDIQUE
//
17